D.I.Y Culturalist Exhibition @ Thistle Hall
A group exhibition of D.I.Y artists in conjunction with the CubaDupa Festival Wellington 27th-28th March 2021
23/03/21 - 27/03/21
Opening: Preview and blessing 5:30pm at Thistle Hall 293 Cuba St Wellington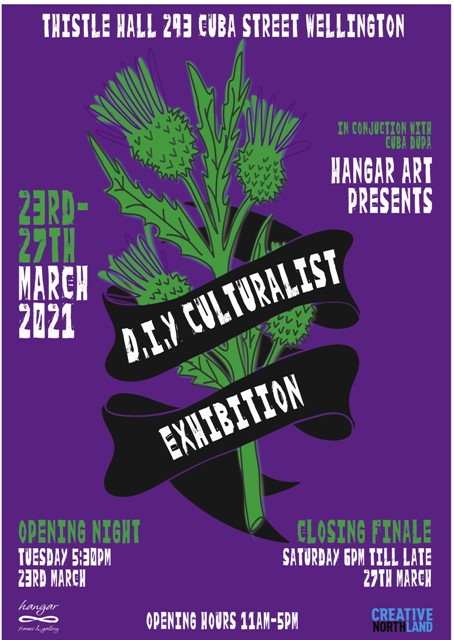 DIY Culturalists is an exhibition showcasing multidisciplinary artists from around Aotearoa. This synthesis of paint, print, music, digital and sculpture presents the ethos of DYI arts culture that sits within our everyday lives.
The exhibition explores an alternative understanding of 'DIY' culture and the personalised lived experiences that can be reshaped, transformed and retold through art. This exhibition takes on a whole new meaning to New Zealand's well known 'DIY it's in our DNA'. This is a collaboration of artists whose work's represent and contribute to alternative New Zealand music, folk art, Tikanga values and avant-garde principles.
Hangar Gallery would like to thank Creative Northland for their assistance.